When attached to a stroller, Gooru Mirror increases face-to-face time with young children, aiding bonding and general brain development. There may be additional benefits for neurodiverse children on the Autism Spectrum, representing an estimated 1 in 54 babies in the USA.
Gooru Mirror as a Support Option for Autism Spectrum
Children on theAutism Spectrum become measurably stressed when forced into eye contact. Slow Habituation to Eye Contact in a Non-Therapeutic Environment is a recommended method to help children gradually become more comfortable.
According to Nouchine Hadjikhani, MD, Ph.D., from the Harvard Medical School, "An approach involving slow habituation to eye contact may help children…be able to handle eye contact in the long run, thereby avoiding the cascading effects that eye-avoidance has on the development of the social brain." (Massachusetts General Hospital 2017)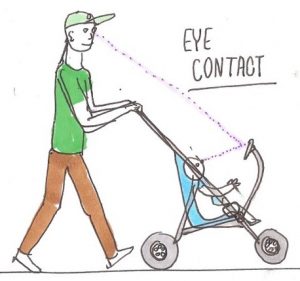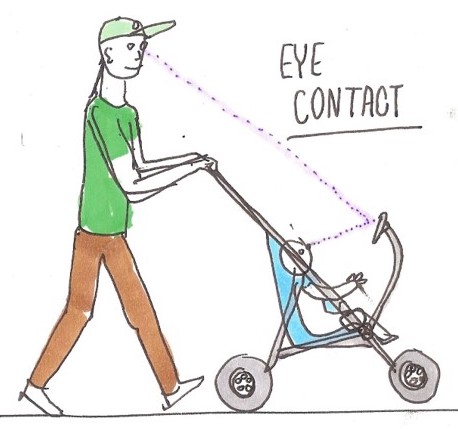 When Gooru Mirror is attached to a stroller, young children can safely explore eye contact at their own pace, indoors or outdoors, in a non-therapeutic environment. Thoughtfully designed, children have the option to make eye contact with themself, with a caretaker, or instead, take in the world around them. Whatever they choose will be positive.
Respecting a child's nature and unique abilities leads to better care.
The Theoretical Use of Gooru Mirror as an Early Detection Tool for Autism Spectrum
Eye contact detection happens in the first 2 to 5 days of life for humans (Farroni, Csibra, Simion,& Johnson, 2002).  Eye contact and communication are key for human development (Center on the Developing Child at Harvard University 2017). Whether in person or through video, eye-to-eye communication, at the very least, stimulates improved communicative and language development in children (Leong 2017). 
Children are typically placed in forward-facing strollers after 6 months of age or when they can sit up on their own (Mayo Clinic 2019), allowing the child to see the world around them.   This near-universal action ends parental eye contact and lip-viewing.
When Gooru Mirror is attached to a stroller, typically developing children will look into the mirror on their own, when their name is called, or when directed to by a caregiver (Fernsten 2020).
The behavioral attributes of Autism Spectrum often appear 12 months to 18 months of age or earlier (NIH 2019).  Two relevant indicators for Autism in children are:
1.     Lack of eye contact
2.     Not responding to their name (NIH 2019)
Theoretically, if a child initially engaged through Gooru Mirror, then noticeably stops engaging, even when directed to by a loved one, Autism may have set in.
In these cases, Gooru Mirror might provide parents with an early detection mechanism. Parents should speak with their pediatrician to explore further.
Early intervention leads to better outcomes.
References
Autism Speaks. (n.d.). Autism Facts and Figures. Retrieved January 12, 2020, from https://www.autismspeaks.org/autism-facts-and-figures
Center on the Developing Child at Harvard University. (2017, October). Three Principles to Improve Outcomes for Children and Families. Retrieved January 12, 2020, from https://46y5eh11fhgw3ve3ytpwxt9r-wpengine.netdna-ssl.com/wp-content/uploads/2017/10/HCDC_3PrinciplesPolicyPractice.pdf
Farroni, T., Gergely , C., Johnson, M. H., & Simione, F. (2002, July 9). Eye contact detection in humans from birth. Retrieved January 12, 2020, from https://www.ncbi.nlm.nih.gov/pmc/articles/PMC123187/
Fernsten, P. (2020, October 12). Effortless Brain Development – Gooru Global. Retrieved October 24, 2020, from https://gooruglobal.com/2019/10/12/communication-in-strollers-autism-notes/
Leong, V. (2017, December 12). Speaker gaze increases information coupling between infant and adult brains. Retrieved January 12, 2020, from https://www.pnas.org/content/114/50/13290.abstract
Massachusetts General Hospital. (2017, June 15). Why do those with autism avoid eye contact? Imaging studies reveal overactivation of subcortical brain structures in response to direct gaze. Retrieved January 12, 2020, from https://www.sciencedaily.com/releases/2017/06/170615213252.htm
Mayo Clinic. (2018, May 15). Stroller safety: Tips for parents. Retrieved January 12, 2020, from https://www.mayoclinic.org/healthy-lifestyle/infant-and-toddler-health/in-depth/stroller-safety/art-20043967
(NICHDa) Eunice Kennedy Shriver National Institute of Child Health and Human Development. (n.d.). https://www.nichd.nih.gov/health/topics/autism/conditioninfo/treatments. Retrieved January 12, 2020, from https://www.nichd.nih.gov/health/topics/autism/conditioninfo/treatments
(NICHDb) Eunice Kennedy Shriver National Institute of Child Health and Human Development. (n.d.). When do children usually show symptoms of autism? Retrieved January 12, 2020, from https://www.nichd.nih.gov/health/topics/autism/conditioninfo/symptoms-appear